Consulting Engineering Services
For Property Managers
ProTech IB is your building engineering expert and offers customized solutions for all your needs in consulting engineering.
Strategic Skills
Technical Expertise
Innovative Solutions
Cost Optimization
Monitoring and detection of water with SmartAlarm™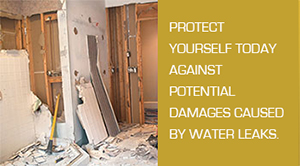 ProTech IBis pleased to bring you SuiteSentry™ water monitoring and detection system to offer unparalleled protection. Through its integration with smart phones, the Smart Alarm™ system can send an email or an SMS text message to the owner of the condo and any other person designated on the contact list as soon as a leak is detected. This allows you to react quickly and minimize damage not only in a condo where a leak is occurring, but also on other floors and other condos.
Do not wait until it's too late!

Concrete Inspection, Maintenance & Rehabilitation
Regular inspection of concrete structures is an essential component in ensuring the longevity and safety of the
structures. ProTech IB can provide scheduled inspection services that will allow you to better manage maintenance
costs and extend the life cycle of your concrete assets. Our reports also ensure you are in compliance with new regulatory requirements.